"Master The Skills Of Crafting Your Own Squeezepages That Suck in Fresh Leads Like A Vacuum... Without The OFF Switch! "
"The Money is in the List". But did you know that one of the most effective methods in list building you should master your skills on is creating your own Squeeze Page?
A Squeeze page is a simple web page that does nothing else but convert your visitors into subscribers for your opt-in mailing list.
This simple 18 page guide shows you how to create your very own Squeeze Page and takes you behind the simple yet ingeniously designed system to online riches as used by some of the leading Internet Marketers and Direct Response entrepreneurs in the world!
Introducing...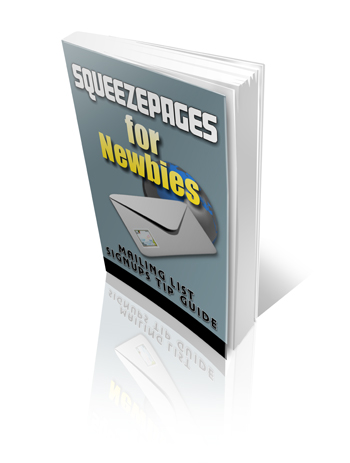 Squeezepages for Newbies
Table of Contents
1 - Introduction to Squeeze Pages
2 - The Squeeze Page System
3 - What You Need Before Getting Started
4 - Planning Your Squeeze Page Theme
5 - How to Write a Squeeze Page that Converts
6 - Tips on Increasing Your Conversion Rate
7 - Driving Targeted Traffic into Your Squeeze Page
Grab Private Label Rights To This eBook You Can Call Your Own, And Generate Income From Selling This eBook As Your Own!
It's common marketing knowledge that having your own product can put you own on the fast track lane in Internet Marketing. This is also practiced every so often even in the world of conventional business - and the Internet marketplace is no exception.
Guess what? Having your own product is indeed a huge success factor! A huge fraction of successful marketers you and I heard and know of today have their own products... with their names or branding on them. And what can YOU do when have your own product?
Let me suggest some profitable ideas:
Make money from selling the product (this is what we call the up-sell),
Sell the exclusive Resell Rights to resellers at 5-10 times the product price,
Convey Full Master Resell Rights and make your product a viral marketing agent!
Sell the Private Label Rights or Source Code Rights to other Information Marketers at 10-20 times the product price!
Create your own multiple free reports and articles for content, And even elect to publish your work offline!
With this eBook You Can:
Use the product for personal use only.
Put your name on the product as the author!
Edit the contents anyway you like, change the cover, or whatever.
Break the product contents down to articles for viral articles.
Sell the product at any price you wish. You decide your profit potential!
Add the product into membership site for your members to enjoy.
Use the product as a bonus to another product you are selling!
Include this product into a paid package and sell at a higher price!
Sell the products through auction sites!
Offer the Resalel Rights,to the product - and at any price you wish!
Resell the Private Label Rights at any price you wish!
Change and publish the product offline!
And much, much more!
Get it for Only $19.99
plus full Private Label Rights

I guarantee all of my products.

For Any Questions, or product support, please contact me at myemail @ myemailaddress.com
Copyright © 2009 - Your Company - All Rights Reserved