JayKay Recommends You to
READ This To Better (saving you time) Understand
Exactly How Forum Fortunes Will Help You :-)
(download is found at the bottom of this page)
---
"You Have Just Unlocked the Powerful Secret of Making Money With Online Forums..."
Forum Fortunes software saves you time, generates targeted traffic to your websites builds your credibility, and will make you money!
"What a work of art Russell. This is a great way for someone who is active in posting to forums to keep a track of both their posts and all the responses coming back in. It means that someone can use your software to watch multiple forums simultaneously and I'm sure they'll be a lot of forum addicts who will love to use your new software - good luck,

Michael Green of
http://www.howtocorp.com/forum

Date: March 29th
From: Russell Brunson

It is a little known fact that the fastest way to become recognized as an expert in your field is to contribute helpful and valuable posts on a regular basis in the forums that your target market hangs out in.
Finally, there is a powerful new way for you to organize and post your valuable contributions to every forum you are a member of saving you hours of time and allowing you to spread your influence easily and rake in more money in the process! That's where Forum Fortunes comes in...
Online forums are like little communities where the residents "know" each other. There are countless message threads where people share ideas, concerns, opinions, and look for help. Imagine how many new customers you will have when you turn these thousands of forum "residents" into customers... Now you can!
"Automate Your Forum Message Posting and Replies With Forum Fortunes as you Become an Expert in the Minds of Future Customers!"
Forum Fortunes software speeds up the task of message posting and replies to an unlimited number of forums while managing multiple conversation threads. Automatically track all replies and organize them as you can continue multiple dialogs.
Using Forum Fortunes Software Is Like Having A Full-Time Administrative Assistant Who Monitors And Organizes Every Post You Make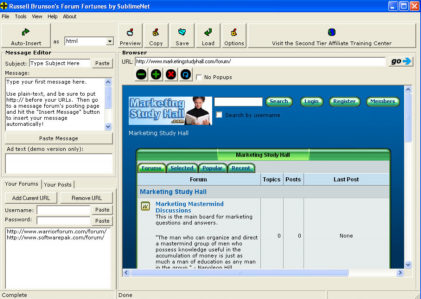 (Actual Screen Shot)

Automate your forum posting and replies in just three simple steps:
Enter a message into the message editor.

Use the built-in browser to find the message boards that are related to your product, service or web site.

Click the "Insert Message" button and your message is automatically formatted and posted!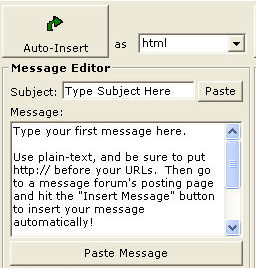 With Forum Fortunes Software you will also...
Automatically track the replies to your forum postings.


No longer need to manually search each message thread that you have posted to.


Maintain the conversation and build rapport with the forum members from your desktop.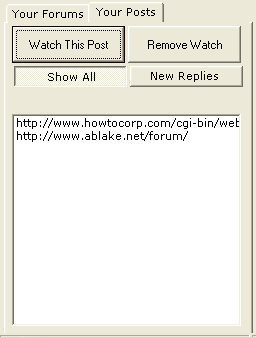 Become An Acknowledged Expert In Your Niche Using Forum Fortunes Software and Your Website Traffic Will Soar!
Forum Fortunes is complete. There is nothing else to buy. It works with every message forum on the Internet. All you have to do is join the forums that are related to your niche market (search Google -- there are hundreds of them in your niche) and let Forum Fortunes start driving new customers right into the palm of your hands.
Quickly Boost Your Search Engine Rankings By Building Link Popularity!
Search engines are still one of the best ways to get targeted traffic directly to your website. Forum Fortunes will help you to boost your search engine rankings. Most message forums allow you to add a signature line in your posts that contain links back to your website or favorite affiliate program.
As you post in more forums, your link popularity will grow. As your link popularity grows, your site will get better search engine rankings, and you will get more visitors ready to buy what you are selling.
Forum Fortunes is the Fastest Way to make money using Online Forums.
Plenty of Internet business owners just like you are using Forum Fortunes to drive new customers to their websites. Here's what a few of them have told us:
Russell,

Once again you totally astound me. Forums are no secret but what is a secret is that they are one of the best sources of free traffic. When I opened up your "Forum Fortunes" package I was only expecting an informative e-Book... but you have delivered so much more! Your software will save me time by streamlining one of the most powerful techniques of driving targeted traffic and building credibility. Time = money so your software gets my highest recommendation. Thanks!

Josh Anderson
http://www.email-alternatives.com/
Russell:

I've been a "lurker" in many forums over the years. I know that they can be a powerful marketing tool if used correctly. But I've always been too busy (lazy?) to post frequently.

Now "Forum Fortunes" has completely changed my attitude to forums. It makes it so easy to view forums, to post to them and to track your posts. I just don't have an excuse any more for not using forums.

Ian Traynor
http://www.marketing-magic.info/
Forum Fortunes really does make posting to message forums a snap! Download your copy right now and take it for a spin.
How I made $4181 in 25 days from 1 Forum!!!
When I was just getting started in online marketing I wanted to create a new website, but I didn't have the money to pay for the programmers, hire a copywriter or a graphic designer.
I went to one forum and submitted the idea for what is now http://www.ezinefire.com/. I set up a special PayPal account just for this project and within 25 days I had over $4181 deposited into my PayPal account, as well as over 50 talented people ready and willing to donate their services to make the site a success.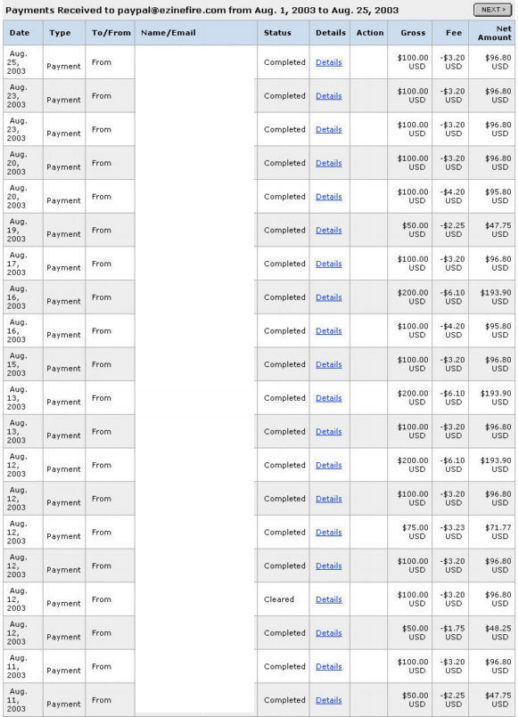 Order Forum Fortunes right now and you will be posting your first money-making forum message in minutes. Once you get started you'll never want to stop. Forum Fortunes is that good!

Limited Time Offer - 100% Master Resale Rights Included!

For a limited time, I am offering this powerful yet simple to use software with 100% Master Resale Rights! You keep 100% of the profits you make.

As a Special Bonus, I will also include a plug-in website that you can customize and simply upload to your server. You can start making money with the package within minutes!



If you order my Forum Fortunes Software Suite today you will receive all of the following...
The simple to use Forum Fortunes software, and Master resell rights, so you can resell the software for $47, and keep 100% of the profits.

You will receive a plug-in website that you can simply upload to your server and you're ready to start generating cash! I have included all the graphics and made it so simple, you just have to customize a few links so you can start selling immediately.

100% Master Resale Rights are included with this purchase, therefore you are authorized to sell AND transfer the resale license to anyone else... The profit is all yours!

Russell,

This is a GREAT way to keep all my frequently visited forums in one
place. Not only is it a great organizer, but a very welcome time
saver as well. Thanks! :)

Diane Hughes
http://ProBizTips.com
Russell,

With the large number of forums available today, it's common to spend a great deal of your time simply navigating from site to site and locating your posts. However since I have found your program, that is a thing of the past. There is no better way to manage all of your forum activity from one centralized program. Forum Fortunes is truly a must have for any discussion forum enthusiast. Thanks Russell!
Tom Delanoy
At last! Russell has FINALLY come up with a tool that has been missing since the first person added a signature line in a forum post! I don't know why it's taken so long to arrive. But it's finally here.

If you have ever forgotten where you posted something, wondered where to post next or just wanted to see how people respond to your comments, Forum Fortunes delivers.

Just having the list of forums contained here is worth the price of admission!

Then there's the tempting library. No more re-inventing the wheel each time. Save your work and re-use it easily, quickly. Run it through a spell checker once and you look polished and professional every time you post.

If you use forum marketing in your arsenal of Internet marketing tactics, you can't be without Forum Fortunes!

Steve Johnson
http://listgenesis.com/
"Wow Russell! I absolutely LOVE forum fortunes! You've taken the mystery out of how to post on multiple (and high quality) forums by producing this GREAT SOFTWARE! I was amazed at how simple and easy to use Forum Fortunes is!

I've been using it for about two weeks now and I can't get enough of
it! It's made the tasks of multiple posting so much easier for me. I'm
sure this software is going to benefit anyone looking to "cash in" on the
forum post advertising method. This software makes it so easy! Thank you for designing such a great tool for my small business!"

-Todd Doyle
http://www.whizkidsecrets.com/
Hello Russell,

I must tell you that Forum Fortunes is something that I've been looking for for a long time. Being an avid forum visitor and poster, this software has saved me a LOT of time. I can easily keep track of all the forums that I visit. Now I can even keep track of all my posts in ONE place without having to go search for them. I can already see how this is going to help me build my opt-in list and generate more income!

I highly recommend it to everyone who frequents forums. At the price this is selling for, it's a BARGAIN!! Hurry up before Russell raises the price.

Hock Ng
http://marketing-tools-review.com/
Hi Russell,

Forum Fortunes is really great time saver - I love the way I can switch
between multiple forums without cluttering my taskbar with too many
open windows. Before Forum Fortunes, I used to keep track of my posts by saving the urls in a text editor, but it's such a cumbersome task to copy and paste each link to check whether someone has replied to it.

I love how your software searches for new posts on multiple forums at
just the click of a button. I also like the part where I can save my
messages - forums usually allow users to save only one sig file whereas I like to use sig files according to the topic I post. But with Forum Fortunes, I have all my sig files right at my fingertips. I would
surely recommend this software to anyone who uses forums - from a forum lurker to a forum junkie.

Thanks for this excellent software :-)

Pooja Srinivas
http://www.coursesuseek.com/
http://www.want2learn.com/
Wow Russell, all I can say after trying out your New Software Forum Fortunes is Awesome, fantastic, revolutionary, completely effect and results producing. One of my most profitable avenues of marketing has always been posting at Forum 's for Profit but with so much time involved in visiting and posting to some many forums it often gets shove back.
Not anymore! Now with Forum Fortunes Software I can post to dozens and dozens of forums in mere minutes as opposed to hours. You know with all the email problems and laws I predicted Forum postings to become the profitable wave of the future. Be assured Forum Fortunes will be Highly recommend to all my downlines!!!
On behalf of my family, "Thanks Russell for giving back extra time to spent with my grandkids!"
We are so sure that Forum Fortunes is the fastest way to use Internet message forums to build a steady income flow that we offer this Unconditional Money-Back Guarantee:
Our "You Can't Lose" Guarantee
Try Forum Fortunes at absolutely zero risk for 30 days! If you are not 100% satisfied we will cheerfully refund your purchase price.

To your online success,
Russell Brunson
Founder, Forum Fortunes
A SublimeNet Company

P.S. -
This is a limited offer... So act now and get your Forum Fortunes Software Today!P.P.S. DOWNLOAD DIRECT: Grab The Forum Fortunes Software Here
---
The income examples on this website are not intended to represent or guarantee that everyone will achieve the same results. Each individual's success will be determined by his or her desire, dedication, background, product, effort and motivation to work and follow the program. There is no guarantee you will duplicate the results stated here. You recognize any business endeavor has inherent risk for loss of capital.
Copyright © 2006 SublimeNet, All Rights Reserved.